ECM Resolutions

ECM Resolutions: The Story of Our Listening
Seven Historical Reissues from the ECM Catalog
These seven historical albums are mastered from original analog sources and issued simultaneously on 180 gram vinyl albums and CDs.
Follow the great arc of music on these early ECM productions, with works for orchestra and improvisers, guitar duo, solo piano, and jazz quartet.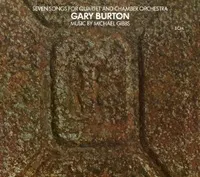 Gary Burton
Seven Songs for Quartet and Chamber Orchestra
Gary Burton Quartet And Members Of The NDR-Symphony Orchestra, Hamburg
Conducted by Michael Gibbs
Gary Burton - vibraharp
Michael Goodrick - guitar
Steve Swallow - bass
Ted Seibs - drums

Sounding as fresh today as it did in 1973, Seven Songs places the Gary Burton Quartet in an orchestral context, with compositions of Michael Gibbs – inspired by Messiaen and Charles Ives as well as Miles and Gil Evans – and exceptional soloing by Mick Goodrick, Steve Swallow and Burton himself. The production is exemplary: Seven Songs set a new standard for recordings of orchestral jazz.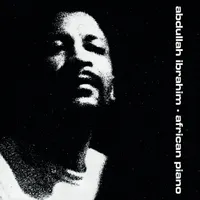 Abdullah Ibrahim
African Piano

Abdullah Ibrahim - piano

Sometimes a musical message is so urgent that questions of recording quality are almost beside the point. Informally recorded in 1969 in a noisy club – Copenhagen's famous Jazzhus Montmartre – the flavour of this album is 'documentary' rather than luxuriantly hi-fidelity, yet the essence of Abdullah Ibrahim's communication comes through loud and clear. The listener is drawn into the robust rhythms of his solo piano style, as he re-examines the history of jazz from a South African perspective, with echoes of songs of the townships, and vamps that hint of Monk and Duke and much more. African Piano was a highly influential album, and it has lost none of its power.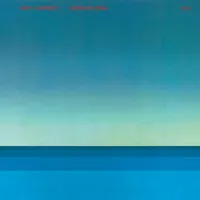 Keith Jarrett
Arbour Zena
Keith Jarrett - piano
Jan Garbarek - tenor and soprano saxophone
Charlie Haden - double bass
String Orchestra (Members of the Radio Symphony Orchestra, Stuttgart)
Mladen Gutesha conductor

"I consider this one of my most richly lyrical and consistently inspired works," wrote Keith Jarrett of "Mirrors", the almost half-hour long concluding piece on Arbour Zena. "Jan Garbarek's contribution is irreplaceable and ecstatic." It is easy to agree that Arbour Zena as a whole is one of Jarrett's most exceptional albums. Evocative writing for strings, beautiful playing by Keith and Jan and by Charlie Haden at his most soulful, and a glowing panoramic production make this 1975 recording one of the finest of the early ECMs.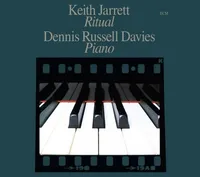 Keith Jarrett/Dennis Russell Davies
Ritual
Dennis Russell Davies - piano

Keith Jarrett and conductor-pianist Dennis Russell Davies have been friends and musical comrades for forty years. In the mid-70s the St. Paul Chamber Orchestra, under Davies' direction presented Jarrett's chamber music. In the 90s Jarrett recorded the Mozart piano concertos with Davies and the Stuttgarter Kammerorchester. Near the beginning of their association, Jarrett invited Davies to play a composition he had written for solo piano. To listen to Ritual is akin to experiencing the core of a Jarrett solo concert. The interpreter may be different, but the lyrical expression is remarkably consistent. As Dennis Russell Davies says: "Those who know Keith will hear him in this music. It couldn't have been written by anyone else."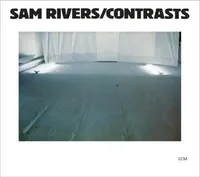 Sam Rivers
Contrasts
Sam Rivers - soprano and tenor saxophone, flute
George Lewis - trombone
Dave Holland - double bass
Thurman Parker - drums, marimba

Dave Holland always described Sam Rivers' groups as his finishing school. It was Sam who instructed him to play "all the music" – inside, outside, atonal, swing, blues, and all the hues of the jazz and chamber music traditions. By the time of Contrasts, Rivers and Holland had been working together consistently for seven years (with Dave's Conference of the Birds at the start of the story), a powerhouse combination of multi-reeds and double bass. Of the drummers who passed through the line-up, Thurman Barker was one of the most creative, rippling across drum kit and marimba. Young trombone innovator George Lewis had already worked with Holland and Barker in Anthony Braxton groups. For Contrasts everyone was fired up and ready to play.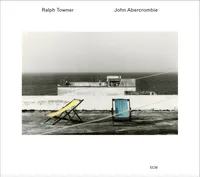 Ralph Towner / John Abercrombie
Five Years Later
John Abercrombie - acoustic and electric guitars, electric 12-string guitar, mandolin guitar
Ralph Towner - 12-string and classical guitars

"Something special happens when they play together" observed Robert Palmer in the New York Times, and the participants concurred. "Playing with John is one of my favorite things to do," said Ralph Towner. "I can play as much as when playing solo, and still get to ply my skills as accompanist. John is such an amazing person to play with that, even when he's playing intensely or aggressively, we somehow fit together and there's really no way that we could collide." On Five Years Later, follow-up to their debut duo disc Sargasso Sea, their improvisations draw on a wider sonic palette, to telling effect.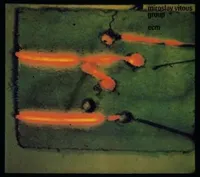 Miroslav Vitouš Group
Miroslav Vitouš Group
Miroslav Vitouš - double bass
John Surman - soprano and baritone saxophones, bass clarinet
Kenny Kirkland - piano
Jon Christensen - drums

Between 1979 and 1982, the Miroslav Vitouš Group was the primary outlet for the abundant improvisational skills of leader Vitouš and John Surman. They made three ECM albums: this eponymously-titled disc from 1980 is the middle one. Vitouš and Surman were well-matched in lots of ways, with roots and influences that extended beyond jazz, a love of playing freely, a commitment to using all the sound potential of their respective instruments: Surman singing at the top of the baritone sax's range to match Miroslav's fiddle-like arco flourishes on the double bass. The redoubtable Jon Christensen shared their passion for playing, as did Kenny Kirkland, just 24 at the time of this session, on his way to becoming one of modern jazz's outstanding pianists. Repertoire includes classic Miroslav pieces ("When Face Gets Pale"), collective improvising, and an early sighting of Surman's relentlessly driving "Number Six".